Sex Education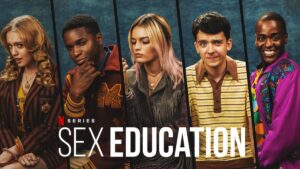 I have been asked so many times about the series, Sex Education. I am a therapist who specializes in sexuality, I am a sex educator who is also a therapist, I have a 23 year old son, and an 8 year old daughter. So I get it… 
I finally dove in and watched it so I could actually speak to the details in the series rather than just the premise of it.
Long before this series came out, people would ask me what life was like for my son having a sex educator for a mom. I would talk about how at times he was embarrassed, or about noticing that my books were askew after he had friends over, or would occasionally hear giggles from his friends about my artwork…
I asked him several times how he felt about having a mom in this profession over the years and one day when I asked him in high school he gave me an unexpected but really beautiful answer. He said the usual "it's a little weird because of the whole sex stuff but really, Mom, you taught me something I don't think most people know you actually teach. You taught me I not only need to treat a woman right, I need to make sure she is treating me well too… I need to make sure all people treat me this way."
This was one of the first times I realized that I was teaching agency to him without realizing he was learning it. I was teaching by example, I was letting holistic sexuality work its magic and it shot straight to my heart. Yes, he was learning holistic sexuality. Yes, we are having hard and awkward conversations about sex, talking about porn, understanding consent, safer sex practices, and anatomy, etc. We were doing that work together, clunky and bumbling around at times, but the true work that was happening effortlessly was teaching him to value agency. And in this realm, sexual agency. Not just for those he was sexual with, but for himself… unexpected parental win. 
So what does all of that have to do with the Netflix series Sex Education? 
Gillian Anderson plays Jean, a sex therapist and Asa Butterfield plays her son, Otis, a boy in high school. It's a British dramedy. It has been described in the Atlantic by Sophie Gilbert as "a filthy sex comedy about lovable teenagers running amok in their witless, hormonal, priapic frenzies." Aside from having to look up with 'priapic' which I should have known but didn't (it means having to do with male sexuality and persistent erections), I agree and love this show alongside the reviewer. Sophie continues by summing up what I can't say any better "It is a woke raunchy comedy replete with graphic and humiliating sexual experiences, yet bent on using them in a very sincere way."  
Yes it does.  It is all those things. 
I love the similarities I saw with Jean being a single mom raising a boy in high school, through puberty and sexual awakening. I loved her artwork (hers is more over the top than mine, as mine art of choice tends to lean towards nudes and are more female-oriented rather than phallic and fertility-focused sculptures). 
I love that she fumbles with what to say to him and how to react to the details of his life. I have been there and relate to the fact that one can be an expert at something and still the expertise flies out the window in regards to your own child. I loved her and was both mortified and interested in her work. I love that she was human with a complicated relationship with her ex and current loves. I love they showed she has an active sex life.  … If I had a dollar for every time I was asked if I was having good sex like I teach others…..(insert eye roll). I love that she tries to bring her work to the high school and is the bane of her son's existence, ahead of her times, and also gets some things wrong too.  
Some of her parenting differs from my own style, same with her professional bent… but I like how she is written. Don't hate me X Files lovers but Gillian's acting and confusing British accent has often annoyed me but Gillian did this character well and she won me over.  
Otis too is great. Nerdy and interesting. He has a crush on Maeve and Maeve plants the idea of Otis becoming the school's sex guru. This idea blossoms and gets a bit out of hand but serves as a beautiful back drop to highlight the normal and varied things teenagers get into and navigate sexually at this time period…. (and by the way, so do adults which also makes the scenes and scenarios relatable and teachable on many levels and for many ages).  He's certainly not my son… Different personality.  Different sexually. And he scoffs at any comparison really. But…. there is something different about how friends and his girlfriends respond to finding out what I do. He can relate to that. My son doesn't want to be an expert to his friends but I am often told by his friends what a good listener he is and how (without using the word) he operates valuing agency in his friend groups. I like knowing that.  
I binged watched the series so I may mix up what happens in which season but the stories are funny, poignant, real, diverse, inclusive and frankly just lovely. There were only a few times I would have written things differently and their writing staff and consultants, I admire. I would have loved to have been in a school play like they performed and the way they handled the consequences and nuiances of a sexual assault was well done. Well done Laurie Nunn, creator of the show!
Short of it…. I like the show. I think it is funny and warm-hearted, as well as genuine and responsible. I liked all three seasons for different reasons and it looks like they will be releasing a fourth season. Some of it really reminded me of my own life and some of it takes turns that are real only on the screen. It is worth the watch and I am endeared to a life and conversation not completely dissimilar to my own. I found it delightfully smutty, rightfully diverse and inclusive, sweet and innocent, a nod to the 80's (my decade), and still currently relevant. Above all, it really gives me hope that this generation is living some of what they portrayed and that my generation can watch and learn and grow from it as well.