Who is a Super Jewel?
A Super Jewel is a woman or girl who has an extraordinary attitude – living life on her terms and impacting others in a powerful way. She's a gem in your life. She may be a bright presence who draws everyone to her. She may be a quiet gem who impacts you in subtle ways. She may have tackled challenges in her life and shown you an amazing life lesson. I started the Super Jewel project to champion the strength within us and highlight the sisterhood amongst us. This project focuses on the girls and women in our every day lives who are living their lives with an extraordinary attitude and in an exceptional way in our eyes. I chose the Super Jewel logo to represent the transformation we experience when we tune into our own power. Simple and powerful.
The Super Jewel Project
The Super Jewel Project is an exciting initiative that highlights women and girls in our every day lives who are living their lives in an extraordinary way. These women are the ones who won't be in a newspaper article or followed on social media by millions but they impacting the world in a beautiful and important way. These girls and women deserve to be recognized and celebrated!
The Super Jewel Project allows a girl or woman to nominate herself or for a loved one or friend to nominate his or her special someone-a mom, a best friend, a girl or woman who has impacted his or her life in immeasurable ways.
The SJP allows all of us to take the time to write a nomination. letter to our own Super Jewel saying what makes her so special, what you love about her, and how she is making a difference in her own world and in your life.
Nominations will be collected until October 1, 2016. A committee of 10 amazing women will choose 50 Super Jewels to be selected for a surprise celebration. Each selected woman will be given a unique and personalized experience of discovering she was nominated, reading the letter(s) celebrating her, a customized photo shoot that incorporates the Super Jewel logo with either the corset or the SJ logo in her unique way and an videotaped interview highlighting her life.
A beautiful photography book will be created with a selected photo from each photo shoot and a creative bio will be included in each Super Jewel layout. A documentary will be created following the process of The Super Jewel Project that will include behind the scene footage, interviews with the photographers, committee members, the fantastic Super Jewels and fun footage with those who nominated them and those who help create the SJP vision.
The Story of the Corset
I am asked a lot about the corset. Some people LOVE it and others aren't so sure it works for them. Here's how the corset came to be…. I put the logo on a corset as an experiment. I think corsets are fun and I wanted to see what it felt like. I wasn't sure it was my thing. The first time I put on the corset with the Super Jewel logo, I felt different. I felt empowered. I was surprised how great I felt in it. It was fun, a little intimidating, and invigorating, all at once. And I've seen it do this to many women. It is so powerful and fun to see her light up when the corset is on.
I worked with an incredible woman to make the corset in many different sizes to fit all body types. I had it constructed so it could fit a variety of chest sizes – from women who have experienced mastectomies to women with DD cup sizes. I made the corset with the logo to represent that we have this really extraordinary gift—our sisterhood. The underpinning of our sisterhood is commonality. In this project, the Super Jewel logo represents our inner strength and the corset is the starting symbol of our sisterhood.
What I've learned though, is that the corset doesn't work for everyone. I thought this was such a gift to learn and jumped into the creative process with finding how to incorporate this perspective into the project. So the commonality thread expanded from the corset to the Super Jewel logo being on EVERYTHING and the corset being used in a variety of ways. You'll see the SJ logo on t-shirts, on scarves, a henna tattoo or a painting. You'll see a teenager holding the corset while a woman in her 80's wears a button down shirt underneath of the corset.
The corset was the beginning, the Super Jewel logo is now the legacy.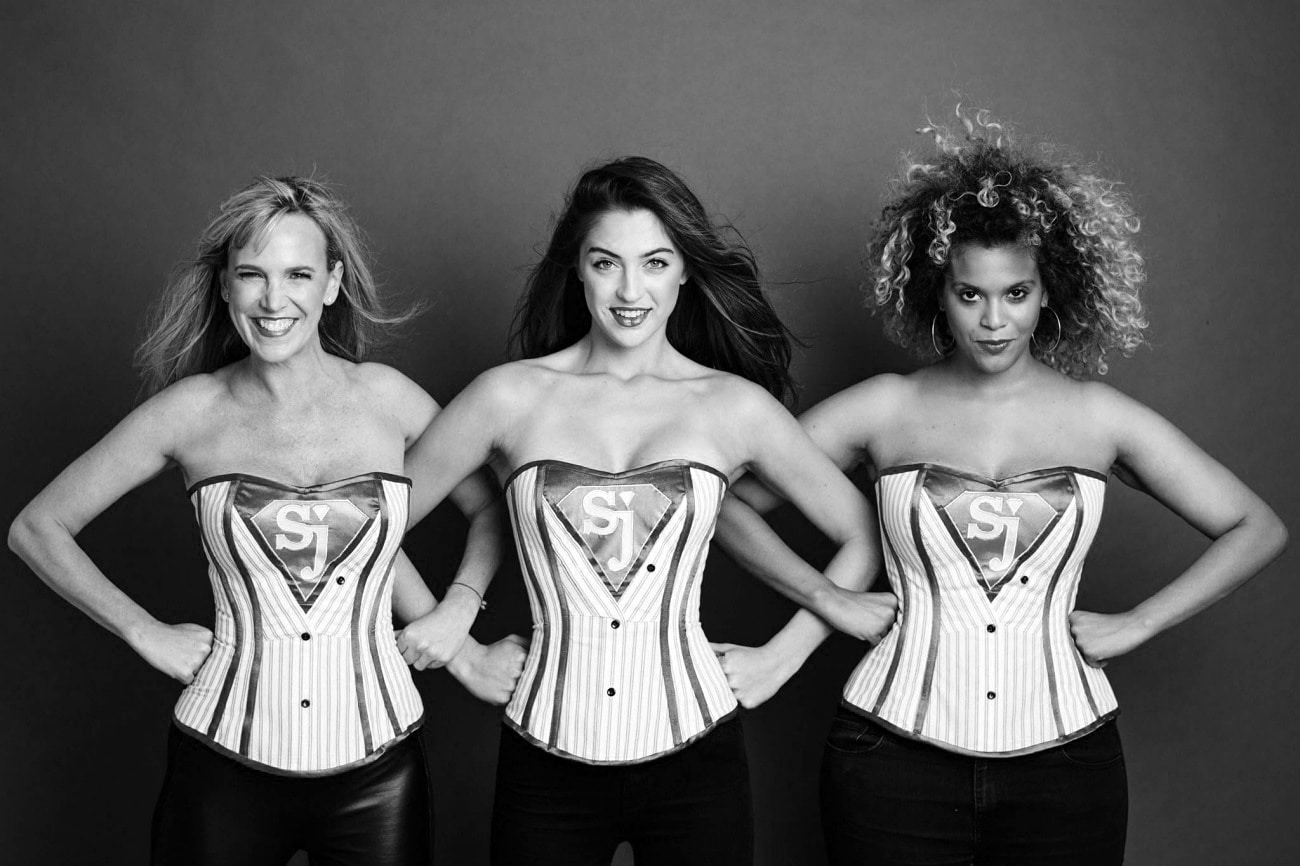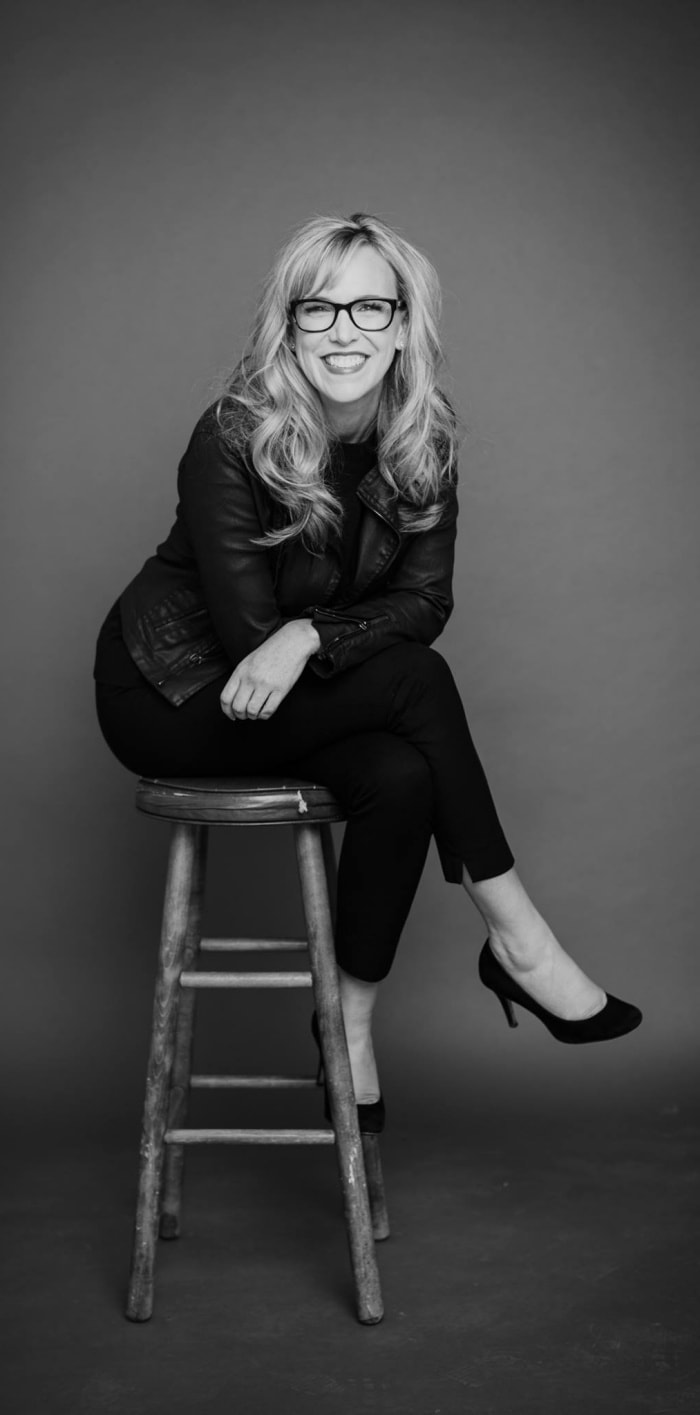 I've worked alongside women in many capacities for over 20 years. Through my work and research I noticed several trends that led me to this really exciting project. In so many ways, we are taught from the time we are young girls that we need to be rescued by prince charming, we don't have the skills to handle things, things are done for us or happen to us so we don't have the opportunities to practice those skills. But at some point, life shifts.
Maybe it is a big event that is traumatic and life shattering but it may also happen in more subtle, every day kinds of ways too.  I'm talking about the realization that we don't have a choice-it is stand tall or crumble.  We have no choice but to figure 'it' out or we decide we are going with our gut and take an action that requires a whole lot of gumption. It sounds and looks different for all of us.  This moment or series of moments happens at any point in our life. For some it is early in life while others face this in their later years but we ALL experience it.
This is the part I'm so excited about celebrating. Yes- I said celebrate! Because at some point, we discover we don't need someone to scoop in and rescue us. We realize we DO know how to handle it. It may be messy and imperfect but we KNOW we can do it.  It's that cool moment of awakening when we realize "I can do this, I have this."  We simply need to access the super hero inside of ourselves who was within us all along! For a lot of this, this moment also coincides with finding a supportive group of girls and women who cheers us along.
Our Sisterhood. Our Tribe.
WE'D LOVE TO HAVE YOU JOIN US!
YOU CAN PARTICIPATE IN TWO WAYS:

Nominate a woman, girl or yourself to have a Super Jewel experience.
Nominate a woman or girl in your life who you admire and are grateful for. Give  her the priceless gift of sharing what you appreciate about her and the knowledge that she is part of worthy and meaningful project for women. She can be any age-a young woman to a woman over 100! We are passionate about diversity and highlighting women from all geographic areas, all races, religions, backgrounds, socioeconomic statues, professions, abilities, sizes,…..We want to highlight ALL kinds of Super Jewels!
The letters should be at least 3 paragraphs long but no longer than 3 pages. If you are writing this letter about someone, your letter should highlight what makes your nominee so special—how she impacts you, how she impacts her world, how she lives her life in a unique way, why the world should know about her and why she should be celebrated! If you are nominating yourself, highlight what makes you a Super Jewel, what is your special story, how do you see yourself as living your life, in your world in a special way?